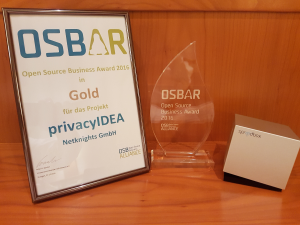 privacyIDEA won the first place in the Open Source Business Award. The Open Source Business Award – also called OSBAR – is an award by the Open Source Business Alliance to honour innovative Open Source projects. The projects are rated by a jury by all kind of attributes like maturety, documentation and of course innovation and added valued for business users.
The jury was staffed by journalists from Germany's most known IT magazines and other Open Source old hands.
As there were a lot of great projects applying for this award I was indeed totally happy and blown away, that privacyIDEA was awarded first place.
Lots of great projects participated. GnuHealth received a special price for its great social engagement and also pretty easy privacy (pEp) for their effort of bringing encryption to the masses.
Thanks for all your feedback and ideas, contributions, testing and running privacyIDEA to improve privacyIDEA over and over again!