This weekend (March 19th, 2016) privacyIDEA was awarded the Thomas Krenn Award at the Chemnitzer Linuxtage in Chemnitz, Germany.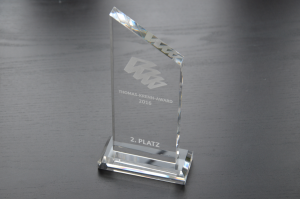 The company Thomas Krenn offers a wide variety of Linux compatible server hardware. As they also rely on Linux and provide certain monitoring solutions, they donate this price to reward outstanding and promising open source projects.
privacyIDEA was able to win a great 2nd place that is rewarded with 2000 Euros of server hardware by THOMAS-KRENN .AG.
We are happy that IT security and two factor authentication is also seen as an important topic by the jury and that the open source solution privacyIDEA can help to regain trust in the identities of the users and in the authentication process.
privacyIDEA is the software that help you keeping your users identities, the authentication process and the key material under your control.